WHO IS ELIGIBLE FOR A PERMANENT VISA?
Those moving to Brazil due to:
A) FAMILY REUNION: dependents moving to Brazil to be joined with a Brazilian citizen or Brazilian permanent visa holder. Please check the dependent section of our website for more information.

Attention: Being married to a Brazilian citizen does not automatically entitle a foreign citizen to obtain a permanent visa. If the family will not be moving to Brazil on a permanent basis, please apply for a tourist visa.

B) Retirement residence transfer;
C) Work as a manager or director of a religious or social assistance organization;
D) Personal investment in Brazil;
E) Intra-company transferee to work as manager, director, or executive
F) Person of extraordinary ability in the sciences, technological, research, or academic fields, with a job offer at a Brazilian research, scientific, or academic organization.
NOTE: Except for circumstances involving family reunion (case 1A), retirement (case 1B), or work as a manager or director of a religious or social assistance organization (case 1C), all other cases have to be initiated in Brazil (work permit authorization by the Ministry of Labor is required prior to submitting a visa application).
Please note that THE CONSULATE MAY REQUEST ADDITIONAL INFORMATION OR DOCUMENTATION AS DEEMED NECESSARY.
Please note: All documents must bear either the official seal or the stamp of the issuing authority and it must subsequently be legalized by this Consulate. Please click here for information and fees concerning legalization of documents.
Brazilian supporting documents must be notarized by a Cartório in Brazil.
STANDARD REQUIREMENTS FOR ALL PERMANENT VISAS
A) Applicant's Passport: original, valid for at least another 6 months on submission date, with at least two blank side by side visa pages. The Consulate reserves the right not to accept soiled, damaged or defaced passports. Amendments and Endorsements pages are for the sole use of issuing country authorities and visas will not be placed on those pages;
B)      Visa Application Form: printed receipt page of the visa application form filled out and successfully submitted online duly signed by the passport holder (or parents/legal guardian of a minor) and with the photo attached on the appropriate boxes;
C)      Photograph: one professional 2″ x 2″ passport photo of the applicant in color. Snapshots, photocopies and computer pictures are not accepted. Photos must be:

Recent: taken within the last 6 months to reflect your current appearance;
Front view: taken in full-face view directly facing the camera. Your full face must be visible. Your head must be centered and not tilted. There cannot be any apparel casting shadows on your face or glare on your glasses;
Clear: blurry, underexposed, overexposed and low quality photos are not accepted;
With a plain white or off-white background;
With a neutral facial expression and both eyes open.
Please glue the photo onto the visa application receipt page;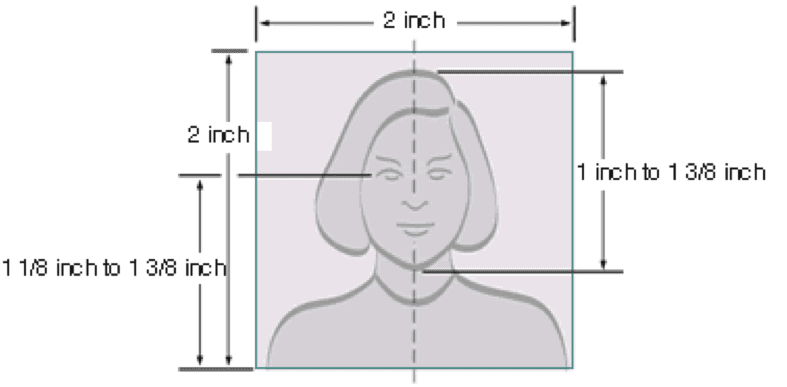 D)       Proof of continuous residence within this Consulate's jurisdiction (12 months): notarized copy of one of the following: driver's license, utility bills, copy of lease, bank statements and in some cases school transcripts are all acceptable documents as proof of jurisdiction.
OTHER REQUIREMENTS FOR A PERMANENT VISA
If the applicant will not be applying with a US passport:
E)       Proof of Legal Residency: notarized copy of visa, permanent resident card or US passport or US birth certificate.
* Non-Americans without a green card or valid re-entry visa into the USA, valid visa to country of final destination after trip to Brazil. This requirement does not apply to applicants returning to country of citizenship.
If the applicant is under 18 years of age:
Special Requirements for Minors
If the applicant is over 18 years of age:
G)Police Clearance which must:

1) Be an original document issued within the past 60 days on a standard letterhead with contact information of the issuing authority.
2) Have sufficient information about the applicant to determine it is not a homonym. Examples: full name, residential address, date of birth, identification document (passport, driver's license or state ID), social security number.
3) Reflect where the applicant has lived on the past 12 months.
G4) Match the applicant's proof of address.
ATTENTION:
Those that have lived in the United States within the last 12 months must present a police clearance from the Federal Bureau of Investigation – listing applicant's full name, address and last 4 digits of social security number.
For further information on how to request a FBI background check, please contact the Federal Bureau of Investigation (http://www.fbi.gov/about-us/cjis/criminal-history-summary-checks).
Clearances from the FBI Headquarters or FBI Approved Channelers are equally accepted.
NOTES:
Local police clearances or online background checks are not acceptable.
If the applicant has not lived in the United States or Brazil within the past 12 months, please note that:
A) Documents not issued within the United States must have their originals either legalized by a Brazilian consular office responsible for the jurisdiction of the country the document was issued or certified by the embassy or consulate of that country in the United States.
B) Documents not issued in English, Portuguese, Spanish or French will require either:
– A sworn translation made by a competent translator in the United States with its signature acknowledged by a US notary public; or
– A translation done by or certified by the Consulate or Embassy of issuing country in the United States; or
– A sworn translation made by a competent translator outside of the United States to one of the four accepted languages above and duly legalized by the Brazilian consular office responsible for the jurisdiction of where the document was issued.
SPECIFIC REQUIREMENTS FOR A PERMANENT VISA ACCORDING TO LEGAL BASIS
FAMILY REUNION
Submit to the Consulate letter from the sponsor in Brazil (Brazilian citizen or non Brazilian holder of permanent residency), informing the reason for moving to Brazil and when you will be moving, along with the following documentation:
H) Proof of Relationship with the main permanent visa holder or the Brazilian citizen. Authenticated or legalized copy of:

Birth certificate(s) for children, grandchildren, siblings and parents.
Marriage license for spouse. Please note that if the sponsor is a Brazilian citizen, a copy of a Brazilian marriage certificate ("Certidão de Registro de Casamento") drawn by "Cartório" or by a Brazilian Consulate or Embassy must be presented. Applicants who do not yet have a Brazilian marriage certificate must have one issued prior to applying for the permanent visa. Information on how to register you marriage at this Consulate may be found on our website in Portuguese under "Casamento – Registro".

I) Sponsor's Brazilian I.D.: copy of "carteira de identidade"/RG, Brazilian passport, RNE, Brazilian driver's license or document alike. If the original will not be presented, the copy must be either legalized or authenticated by a Brazilian notary ("Cartório") or by a consular office.
J) Sponsor's formal affidavit assuming full financial and moral responsibility on behalf of the applicant – "Termo de Responsabilidade e Manutenção". The affidavit duly filled out by the Brazilian sponsor and it must either have the sponsor's signature notarized by a US notary public and subsequently legalized by this Consulate or the document must have sponsor's signature acknowledged in person by this Consulate;
K) Copy of the Identification page(s) of the applicant's passport and every page with a stamp, visa or amendment.
TRANSFERENCE OF RETIREMENT PENSION
L) Notarized letter issued by official institution attesting to applicant's retirement. Note: for those retired in the United States, the institution to testify to an official retirement is the Social Security Administration;
M) Documented proof issued by pension fund provider of monthly pension income of at least R$6,000.00 (six thousand Reais). In case of more than two dependents, an additional R$2,000.00 (two thousand reais) per dependent must be accounted for, from the third dependent on;
N) Notarized statement issued by a financial organization certifying that pension funds can be transferred to Brazil on a monthly basis;
WORK AS A MANAGER OR DIRECTOR OF A RELIGIOUS OR SOCIAL ASSISTANCE ORGANIZATION 
O) Appropriate documentation issued by Brazilian sponsoring organization attesting to the following:

Conditions ruling the provision of service;
Nature of activities to be pursued;
Party responsible for living expenses in Brazil;
Guarantee of repatriation by sponsoring organization once visa expires

P) Health insurance policy benefiting applicant with validity in Brazil;
Q) Assignment act properly registered with competent authorities in Brazil;
R) Sponsoring organization by-laws, board of directors appointment act, proof of registration at the "Conselho de Assistência Social", and proof that it is in existence and active;
NOTES
ATTENTION: permanent visa holders must be registered with the Federal Police within the first 30 days of their arrival regardless of the length of their stay in Brazil. A Visa Form will be issued in order to proceed with the registration. The form must be an original. Please be diligent. Failing to register in time will result in daily fines.
Permanent visas are automatically voided if the visa holder stays out of Brazil for 24 consecutive months.
Currently there are no mandatory vaccines required to visit Brazil. It is recommended to take a yellow fever shot prior to entering Brazil under certain circumstances.
The Consulate may at any time request further information or additional documents deemed necessary. General conditions are subject to change without prior notice.
Please note that a visa is not an applicant's right and may be denied. It does not guarantee the right of entry or stay in Brazil and can be cancelled at the discretion of the Brazilian immigration authorities.